Eva Everard
26 mei 2017 19:40 par
artcontest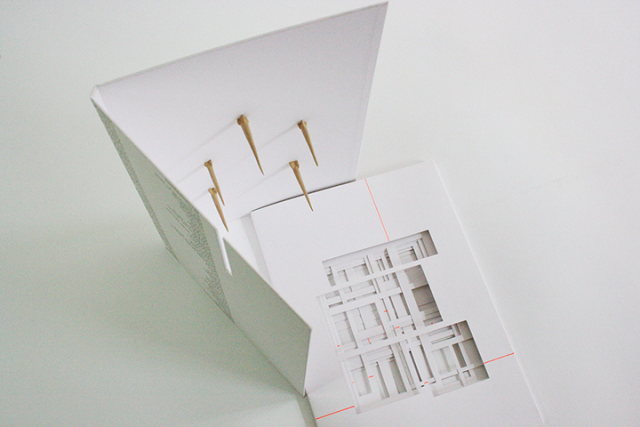 "Nuire", ma nouvelle édition 2017, a été sélectionnée pour le prix Révélation Livre d'Artiste organisé par la maison rouge à Paris dans le cadre de MAD, le salon des pratiques éditoriales contemporaines.
MAD aura lieu le 26, 27 et 28 mai 2017 à la maison rouge. Lors du salon, j'y présenterai plusieurs livres d'artiste ainsi que mon édition 2016 réalisée en résidence à Kala Art Institute, San Francisco.
—————————————
NUIRE
En couverture, une liste de mots comme une liste de noms d'auteurs, de contributeurs. Le premier, "Nuire", enclenche une déferlante de catastrophes – tous les mots que la langue française a trouvé pour dire, avec différentes teintes et nuances, la violence exercée par l'être humain sur lui-même et ce qui l'entoure. A l'intérieur du livre, des pages découpées, sans images ni texte, décrivant des formes architecturales et fantomatiques. Traversant celles-ci, enfin, de petites sculptures en céramiques dont la forme évoque des dents, des piques, des missiles. On ne peut fermer le livre – ces pointes hérissées l'interdisent.
Les trois éléments qui constituent le livre d'Eva Evrard sont d'une simplicité extrême. Simultanément, leur imbrication, l'opposition et la transfiguration qui s'opère entre eux ouvrent un champ d'interrogation vaste et complexe sur la nature humaine. Le choix du livre, dans ce cas, est habilement posé par l'artiste. Symbole par excellence de la civilisation, du progrès par l'accumulation et la transmission des connaissances, il devient ici une question ouverte sur la pérennité de celle-ci face à la menace constante que fait peser sur elle la violence humaine et son potentiel de destruction. Ce livre ne prétend pas domestiquer son contenu – au contraire, il contient une dimension activable, performative. En tournant les pages, nous provoquons l'écroulement de façades éventrées, jusqu'à mettre à nu les objets acérés pointés vers notre regard.
Ici, la précision et le minimalisme d'Eva Evrard provoque une dissonance, ils esthétisent et lissent cette violence pour en faire un objet de contemplation. Il en résulte un mélange paradoxal de paix et d'inconfort, la conscience de la fragilité de ce que l'on tient pour acquis.
The award was created by "la maison rouge", in connection with
MAD
, a new art fair devoted to a wide range of contemporary art editions.
MAD will take place the 26, 27, and
28 May 2017
in "
la maison rouge
". During these three days, I will show many artists' books, and a 2016 edition that I realised at Kala Art Institute in San Francisco.
NUIRE
On the cover, a list of words like a list of authors, of contributors. The first of them, "Nuire" (in French "To harm"), triggers a wave of calamities – all the words that the French language has found to express, with different tones and nuances, the violence exerted by human beings on themselves and their environment. Within the book, pages are cut and hollowed out, without images or text, outlining eerie, architectural forms. Finally, piercing through the pages, small ceramic sculptures the form of which evokes teeth, spears, missiles. One cannot close the book – these bristling spikes forbid it.
The three elements that compose Eva Evrard's book are extremely simple. Simultaneously, their interlocking structure, the opposition and transfiguration that operates between them open up a vast and complex reflection on human nature. The choice of the book, in this case, is judiciously exploited by the artist. A symbol of civilization par excellence, of progress through the accumulation and transmission of knowledge, it becomes in this instance an open question on the sustainability of the latter in the face of the constant threat posed by human violence and its destructive potential. This book does not pretend to domesticate its content – on the contrary, it contains an actionable, performative dimension. As we turn the pages, we trigger the collapse of hollowed facades, until we expose the sharp objects pointed towards our eyes.
Here, the precision and minimalism of Eva Evrard produce a cognitive dissonance : they aesthetize and smooth over this violence to offer us an object of contemplation. The result is a paradoxical mix of peacefulness and discomfort, the conscience of how fragile the things we take for granted are.
Hadelin Feront, curator, GNF Gallery.